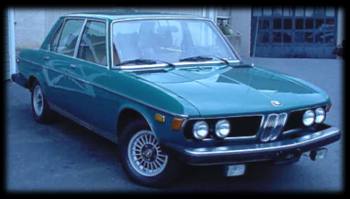 Jackie Kennedy's beloved 3.0s after sale to neighbor; I guess
I should refer to her as Onassis as ole John was long gone by
'74. Car was repainted same color; looks to be in great shape,
if an automatic. Is it worth $57,100? You be the judge...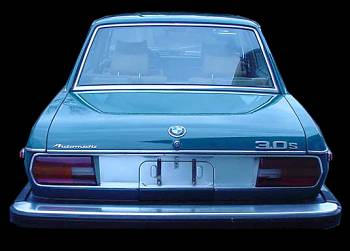 "The auto was listed by premier collector car auction company, Kruse International, on behalf of the seller, who wishes to remain anonymous. The listing showed high bidding activity, finally receiving 67 bids over the course of the 10-day sale. The buyer, who also prefers to remain anonymous, is an amateur car collector who lives in the Midwest. He purchased the car as a surprise gift for his wife, who has long been an avid fan of the former First Lady's grace, style and accomplishments.

They plan to keep the BMW in their private collection, sharing its history with family and friends. The buyer has also purchased two other autos on eBay Motors, a 1912 Ford Model T and a 1937 Cord Beverly sedan.

"Mrs. Onassis was one of those very special people whose wisdom and beauty changed history and the lives of so many," said the buyer. "Owning something that was a direct part of such a famous personality brings us much closer to the reality that was Jackie."

Along with the purchase of the car, the buyer received six photos of Mrs. Onassis and the car, including one photograph of her receiving a parking ticket while in the BMW, as well as the original title, which is dated and signed by Mrs. Onassis.

The BMW was purchased new in 1974 by the former First Lady when she was married to Aristotle Onassis. The BMW, a green sedan with tan leather interior and an odometer reading of 65,000 miles, is purported to be Jackie Onassis' favorite car. She used it exclusively to commute between her Manhattan apartment and her country estate in New Jersey until
she sold it to her neighbor in New Jersey.


Ebay Auction Text

1974 BMW 3.0S 4 Door Sedan
VIN #: 3180458
Exterior: Amazonasgrun
Interior: Tan Leather
Engine: 6 Cylinder; 3 Litre
Automatic
Odometer Reading: 65,896
Other Specifics:

Engine was rebuilt at 40,000 miles, Factory Air Conditioning, Sony AM/FM Cassette, Clock, Disc Brakes, Driving Lights, Manuals, Original Title, Power Antenna, Power brakes, Power Steering, Power Windows, Rear Defrost, Seat Belts, Tachometer.

Body Paint and Mechanical Comments:

Car was repainted in the original BMW amazonasgrun color when owned by Mrs. Onassis. Leather is original in good condition with 3 tears on drivers seat. Mrs. Onassis had the engine rebuilt once after it overheated in New York City on the F.D.R. Drive. The car drives beautifully.

History Comment:

The car is a green BMW Bavaria 3.0S 4 Door Sedan with tan leather interior equipped with automatic transmission, which Jackie Onassis drove during 18 years from August 20, 1974 date when she purchased the car from Martin Motors BMW on the upper East Side in New York until 1992 when she sold the car to her neighbor in Peapack.

Mrs. Onassis bought her BMW new, while married to Onassis who purchased a country estate for them in the horse country of Peapack-Galdstone New Jersey. It was in this automobile that she would drive her children each weekend to Peapack to go riding and fox hunting at the Essex Hunt Club. During the week the car was garaged in a parking garage on 86th street but she occasionally used it to fulfill editorial commitments at Doubleday.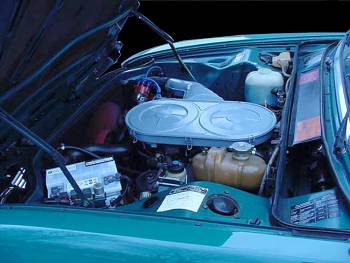 As noted by her son his mother had a "love of words, the bonds of home and family and her spirit of adventure" the BMW was her principal means of travel to do all three.

"It was her only and favorite drive" says her Peapack neighbor. "When she finally decided to part with it I purchased it and put it in storage with my collection."

Other Special Features or Comments:

The highest bidder will get the car, the original title dated and signed by Mrs. Onassis in 1992. Also available a set of 6 framed photographs featuring her driving the car around Manhattan and even getting a parking ticket for double parking on 5th avenue. .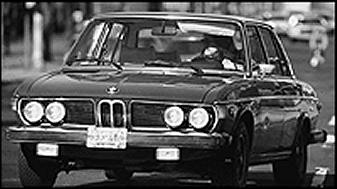 An Interesting story to say the least... Would be nice to get the shots of Jackie Onassis getting the ticket or at least some sort of shot with her driving... riding... praying... anything with the car. Who know, perhaps they will surface somewhere although it is doubtful.

Well, here it is - See photo at right of Jackie O behind wheel of her 74 3.0s E3. Is that a four wheel drift?



Here is a lovely shot of side of the 3.0s; notice the background through windows...lovely Connecticut Pre-Barn....




- Coming soon: Woodham's 3.3L - A European rarity, perhaps the nicest in the US